On possibly one of the best autumnal days Melbourne could offer, I embarked on the biggest challenge of my fifteen years as a professional triathlete – Ironman Melbourne (3.8km swim, 180km bike, 42.2km run). As the Asia Pacific Championship event, the field was star-studded with World Ironman Champions, Half Ironman World Champions, Olympic medalists and seasoned veterans at this distance. No one ever talks about Frankston as a place filled with talent, but as the sun rose, and the start horn sounded from the pier, the crystal waters of Frankston were filled with more stars than nearly any race outside Kona!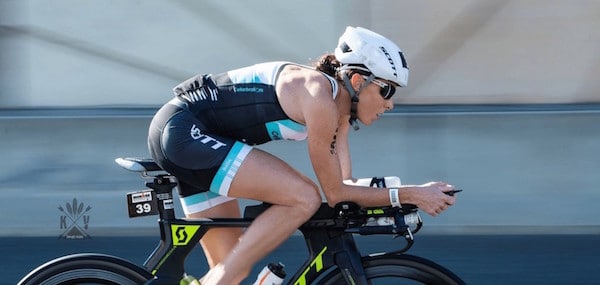 Annabel Luxford – Ironman Ride
Exiting the water with a handy 1-minute lead over the rest of the field, I had time to get through transition smoothly. Never having time-trialed over 90km in a race, I really was unsure how I would fare over the distance. I knew that nutrition and pacing were keys. As an adjunct it was also imperative to keep my breathing calm and controlled. Once out onto the open freeway, I pulled out the Turbine from my bento box (stored easily with my gels) and put it into my nose. I must admit that I had to look at it for a couple of seconds to check that I was inserting it into my nostrils the right way! I did giggle to myself about this, yet sure enough I managed to muster 'the smarts' and insert it correctly. Once it was sitting inside my nose, I didn't notice it all. Most of us are a bit funny about the idea of something up our nose, yet this little device is incredibly comfortable and non-intrusive.
As an asthmatic, breath control is incredibly important. The Turbine provides valuable feedback about my breathing and it helped me maintain efficient patterning for the longest race of my career. Finishing the bike in the lead, I managed to hold onto a podium position until half way through the run; however, my lack of experience at such an endurance event got the better of me. In the end and I finished a credible 6th. Not disappointed with the result, I'm already looking up the road with my eyes on Kona. I know that the Turbine will play an important role in my training and racing plans to reach this goal.